One of my favourite authors for all sorts of reasons is Dorothy L. Sayers. I have given a talk on her, read many of her books, and love the versions made for T.V. I have mentioned Edward Petherbridge and Ian Carmichael on this blog before, and I have watched and rewatched all of the videos, now dvds, which have aged, but are still most enjoyable. So I was really pleased to get a Folio set of the five main books for Christmas.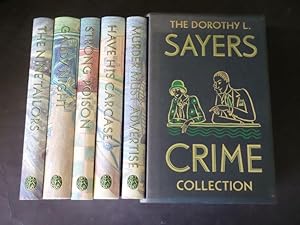 It includes my favourite, even if it does not mention Harriet Vane, The Nine Tailors,   and a larger print version of Gaudy Night . 
The first chronologically is Strong Poison.  I'm sure that I have read it before, so this time I read it quickly but with great enjoyment. It recalls the story of Lord Peter's first encounter with the love of his life (even if she doesn't know it yet), Harriet Vane. Unfortunately it transpires that she is on trial for the murder of her lover, Philip Boyes, who died of arsenic poisoning after he met Harriet to fruitlessly seek a reconciliation. Happily for Peter and Harriet, a staunch supporter of Peter's happens to be on the jury, and manages to avoid a unanimous verdict. That leaves Peter to see Harriet in prison , assure her that he loves her, and they enjoy the banter and humour that will typify their relationship. (That's not a spoiler; the existence of a relationship which starts so inauspiciously is well known to anyone who has picked up any of the later books)  . She is understandably unsure that he can work a miracle and save the day, especially when he has a bare month to find sufficient evidence to convince another judge and jury to dismiss the case against her.
Things that I like about this book include the conversations between Peter and Harriet which show such dry humour, the redoubtable ladies of the Typing agency, especially Miss Climpson who shows enormous resource in mastering specialist skills to great effect, and the overall clever nature of a book which lifts it way above the standard whodunnit.  I know that I have written in glowing terms about many murder mysteries, but Sayers wrote books which may centre on the mystery but are also superb on character, method and motive. Many commentators think that Sayers was a little in love with her own creation, Lord Peter,  and writing Harriet was a sort of wish fulfillment. Possibly so, but if so she makes him very self aware and her so reluctant to accept his offers that they emerge as real people. My other favourite is the Dowager Duchess, who is never shocked even by Peter's excesses and enjoys the comforts of her life hugely.
So, one book down, four to go. Of course, other editions are available of this really lovely book…