Does anyone else have a book that lurks in the kitchen waiting to be read? I picked up a copy of Nancy Mitford's complete novels in a charity shop, and as it was not in perfect condition I did not feel too bad about consigning it to the kitchen for breakfast reading and any other pauses in the day. I have gradually read in this way five novels, even if some of the ideas are horribly dated.  In this way I have read The Pursuit of Love  even if I got it confused with Love in a Cold Climate  as the tv version runs both together.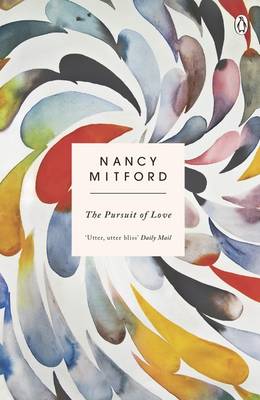 One of the most interesting things about the novel The Pursuit of Love  is that interesting feeling that all of this is well known, if you have ever read anything about the Mitford sisters in the mass of biographies, collections of letters and other books about this amazing family who dominated  mid twentieth century gossip. The novel is largely about a family of unusual girls (there are sons in the book, but they are secondary to the plot, such as it is) who live in Alconleigh with their parents, referred to as Aunt Sadie and Uncle Matthew. The Radlett family is observed by a frequent guest "Fanny", who is a constant presence during her school holidays given that she is being brought up by an Aunt, as her mother is an infamous "Bolter" from marriages and men. Thus the madness and mayhem of the family is described by a semi – insider, who is used to the foibles of a strange and wonderful Matthew, the inconsistent Sadie, and the passions and plots of girls not sent to school. The beautiful Linda is the most featured, although love and passion are pursued by Fanny and others in the background. Thus we read of first dances, hopeless loves and an unwise marriage (or two). There are some very funny tales of an illicit visit to Oxford involving a paintbox, Matthew's irrational prejudices, and the general progress of a family and love.
The fact that much of this novel is based on the actual Mitford family means that there is the element of embroidered truth about the writing. I have never been sure about the 'uneducated' girls who all go on to live such notorious lives, but this book is about the early years, and as such does not examine the fascination with fascism that dominated the lives of some of the sisters. The character of Linda comes to dominate, as she rushes into a marriage with Tony which is obviously ill fated, and then her flight to France. Her relationship with a notorious Frenchman echoes the author's own true love for Gaston Palewski, and there are elements of Nancy's own feelings throughout the later parts of the novel.
This is a rush of a book, where significant life events are little examined against the feelings of romance, real and imagined. The plot is not strong, but the characters are undoubtedly memorable. Fanny narrates in a self – effacing way, as this is not her pursuit of love but Linda's, though she is involved in some of the most significant events and loss.  I enjoyed re reading this book with its funny elements, even if Linda is a frustrating character. It is a novel of its time and class, and there is not much understanding of the bulk of the population who form an unimportant background to the life and loves of the minor aristocracy. Having set that, it does not induce the cringes of horror over the right wing politics of her earlier novels, and here there is more condemnation of those who make money as opposed to hanging onto expensive ancestral seats. Read this book for a land long gone, amazing characters and search for love, and be aware of its inconsistencies which perhaps reflect real life.