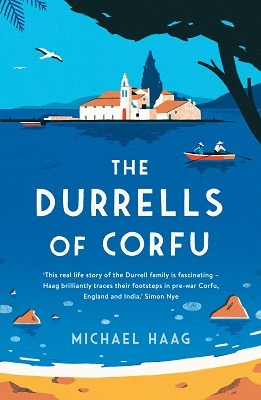 This book is a non fiction book largely set outside the UK, so not usually my sort of book for light reading. It is in some ways the book behind "My Family and Other Animals" by Gerald Durrell, in that it is the family history of a group of people that ranges from India to England, Corfu and other places offering homes to those driven by sadness, romance and friendship. It does not hold back on describing the differences between the amusing and neat adventures of a family in exile, travelling to a sunny, friendly safe idyll as depicted in the novel, and a real life spread of adult children in relationships.
This book has the advantage of a skilled writer working on a wealth of research into fairly recent history. Haag has had access to the diaries and photographs, many of which feature in this book, which tell the stories of the real houses that various members of the family inhabited on Corfu and other countries. It opens in India, telling of Louisa's husband Lawrence and how his work took them many places. The loss of a daughter to diphtheria led to the infant Larry being aware at an early age of the vulnerability of life, and the effect that had on his writing. The births of Leslie, Margo and Gerry were followed by the death of Lawrence, and Louisa's decision to take the children to England, where Larry was at school. Louisa's deep unhappiness led her to move around the country, living in a variety of homes with Gerry as her constant companion. He records his early adventures with animals, such as a fierce dog called Prince, retired to a farm where 'he could pick on something his own size, like a bullock'.
I think that one of the best elements of this book is the use of the writer's deep knowledge of the writing of both "Gerry" and Larry. He recounts elements of how and where they wrote, as well as Gerry's eventual need to write in order to support his zoo, his collection of animals he wanted to create and maintain to preserve creatures threatened in by the loss of habitat. It is not an airbrushed story; it tells how Larry and his wife Nancy lived elsewhere for much of the time, and visitors to the island such as Henry Miller recalled encounters with other visitors in the warm water and waves. Gerry's preoccupation with the wildlife of the island was his saving, especially when channelled by Theodore Stephanides and others into real study and orderly observation. The characters of the island immortalised in Gerry's writing are real, but with significant omissions such as Theo's daughter Alexia. Margo is also often sidelined, suggesting in later life that she felt her education was unfairly disrupted even though she appeared not to be a fan of her boarding school at the time.
I was surprised how much the family jointly and severally travelled backwards and forwards to England before they left in 1939. Their lives and relationships after Corfu are well documented in this book, with photographs from the family. Again, nothing feels obscured as Leslie's difficulties emerge, including his callous treatment of a maid, Maria, who had to flee her homeland owing to her pregnancy. As you may expect, this is not a chronicle of the happy family described in the television version, but a truthful version of a real family in all its ups and downs. The photographs liberally used in the text make it real, as well as the Epilogue which reveals the varied directions life took the Durrells post Corfu.
I would recommend this book to all who have enjoyed Gerald or Lawrence's writing, or just the television versions. It is 'warts and all' but a very readable account of an unusual and amazing family.
We are reading "My Family" for our book club this month, and I have reviewed "Marrying off Mother" elsewhere on this blog. I am not usually a fan of animal books or memoir writing, but I just find Gerald Durrell's writing so funny. I will embark on Lawrence's one day!