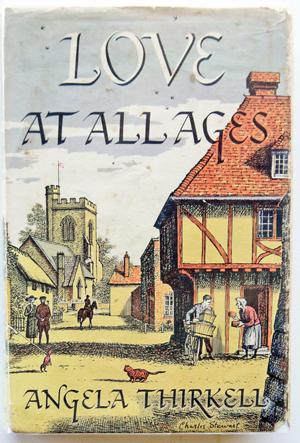 This is one of Thirkell's novels that has not been reprinted by Virago, so it may prove a little more difficult to track down. It is also one of the last of the Barsetshire chronicles, appearing in 1959, and it has the tell tail signs of a late Thirkell; when she admits to being unsure about some of her own characters, and admits she cannot make the effort to fill in a back story for those not central to the tale. On the positive side, it triumphantly continues and completes the story of some characters, and hints that others will develop well with time. Love comes for an older pair, favourite couples discuss their long standing relationships, and young people take their first tentative steps in romance. There is a resolute bachelor and Nurses and Nannies aplenty. This book ends some stories and begins new ones, but Thirkell's grasp of some of the details of her created world do waver, and this may affect the enjoyment of the novel by those readers who have studied her novels thoroughly.
This book rejoices in many aristocratic titles and some of the characters resign themselves to studying their Burke and Debrett more closely in order to understand those around them. A baby is born to titled parents much to the delight of an American Duchess and her predecessor, the Dowager. The Christening provokes a wedding, and a visitor suggests a new focus for the sister left behind. Lydia and Noel Merton celebrate their long relationship and some of its vicissitudes, including the fearsome arrival of a wartime telegram. Lydia remains one of my favourite characters, and her professionally distinguished husband Noel is one of the most interestingly described men, with his harmless flirtations. Ludo, of whom much is expected, is growing into his role, full of references back to his success with the Clover theatricals in "Coronation Year", and becomes attracted to Lavinia. So the major families of Barsetshire flourish and continue, even if sometimes the names seem a little muddled; Wickham and Wicklow are both men who know the country and estates, and I have been trying to separate them over many volumes.
As always this is a book of the middle classes and minor aristocracy, clergy and congregations. The lower classes are sometimes dismissed as peasants unable to cope with the new post war world, unsure of hospitals and how to handle pensions. There is a survival of servants who know their worth as the last of the functionaries who can actually run houses, but Thirkell as always gives them limited characteristics. The mistake in this book which really stood out for me is the identification of Martin Leslie as the man who suffered the loss of a foot in military service; without checking back I am fairly confident that while Martin indeed suffered a leg injury, it was Robin Dale who actually lost his foot. This is a minor quibble very much in the spirit of Mrs. Morland, whose best – selling yearly books bear a strong resemblance to Thirkell's during the mid century.
This is a book for Thirkell's many fans, who will find much to delight and divert in this novel, as characters reappear even if only in passing reference. It would work as a standalone novel, and certainly Thirkell's books do not have to be read in strict order, but to get the maximum enjoyment from this book which aims to dispel the "Universal Dullness" of the world, a working knowledge of Barsetshire and its many citizens would add greatly to the reader's enjoyment of this entertaining tale.
I managed to find a copy of this book in Derby Central library in a special display to celebrate the successors of Jane Austen. I'm just a bit sad that it will have to be returned, but I did find another title I don't own so watch this space for another obscure Thirkell…