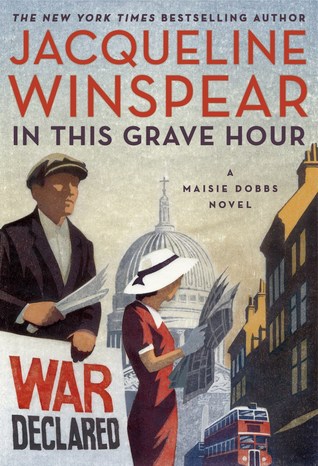 This is the latest in a long series of novels featuring private investigator, Maisie Dobbs and her family and associates. In this book it is September 1939, war has just been declared, and tension is in the air, especially among those who remember the First World War all too well. The novels have covered the time from early in the twentieth century, when Maisie is discovered as a young maidservant reading in a library. Her adoption as a special case by her employer and the man who becomes her mentor leads to University, nursing on the Front during the First War, injury and loss of the man she loves. She makes friends, then suffers a great loss which she tries to work through by becoming involved in espionage and other work in an increasingly troubled Europe. At the beginning of this novel she is throwing herself back into investigative work with two of her colleagues, only to discover murder and mystery among refugees from previous conflict which seems to be building up once again.
So this is another book which features a woman working in the field of investigation in the interwar period. This is a sober series compared with some others that I have read; there are very few if any amusing passages in an earnest episode in which there are some affecting murders. Winspear treats murder less as a puzzle; the family of victims show emotion at their loss, desperation to discover what happened and why. The shadows of the First World War are ever present which leads me to wonder just how old some of the characters are meant to be. I wonder how much longer Maisie's father is to continue to be a living character, let alone imparting warnings and wisdom.  The earlier books also spend many words describing Maisie's clothes, which is not such a theme in the present novel. My favourite character, Priscilla, the strong survivor of a family who all fought in the War, does make an appearance, and  insists on Maisie joining in family events. This is a novel which could easily slide into sentimental traps with an evacuee child who refuses to speak and how Maisie deals with the situation. Winspear manages to keep it moving, and this episode shows just how difficult it is to write about this period from the twenty first century without falling into grim saga. Winspear writes memorable if slightly purple passages and scenes, but also deals with individuals who are hurting. Wounded soldiers are frequently observed, and I have no doubt that Winspear's research into these men's later lives is impeccable.
Winspear is a confident writer, unafraid to tackle the big international pressures through people of various classes and influences. Throughout this series I have felt occasionally that her research has dictated her theme rather than the other way round, but in this novel the necessary work on the plight of Belgian refugees is well integrated and lead me to wonder how she will tackle the European refugees in the Second War, assuming that there are more novels to come featuring Maisie Dobbs. I sometimes wish her central character would be granted lasting joy; grim satisfaction seems to be the default position. This is a book of impeccable skill as Winspear demonstrates her total command of her chosen era and characters, a strong book of women making a difference in a world where war is beginning to have its impact on daily life.
My posts have been a little more spread out as Christmas hits the Vicarage with its intermittent busy days and moments of calm. Assessment tasks for my University course are also being a bit demanding. My next post is number 300, so I am wondering if there will be time to do something a little different…