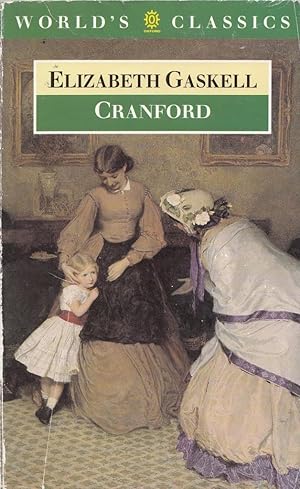 This book is one of the best social history documents concerning a small English town in the middle of the nineteenth century. In the reign of "Our Queen" – Victoria of course, the small town of Cranford (actually Knutsford in Cheshire) is dominated by women. The book actually points out that every household above a certain value is run by a woman, single or widowed, and there is a notable shortage of men beyond those strictly necessary in a Victorian town. The centre of the settlement is the household of the Misses Jenkyns, the two unmarried daughters of a previous Rector. Now in their fifties, and therefore seen as old (ouch!), Miss Deborah is seen as the arbiter of taste, custom and behaviour, the clever daughter with decided views on literature, dress and every kind of ritual which can occur throughout the year. The younger sister, Matilda or "Matty", is a far gentler character; some might say, too gentle and undecided for her own good.  Various other women form their social circle, notably Miss Pole, incurable gossip and agitator of much activity, and Mrs Jamieson, slightly higher up the social scale and devoted to her dog, Carlo.
The women are not the poorest financially, but apart from the complicated social arrangements, they must all practise "elegant economy" as their income is strictly limited. This takes the form of balancing the use of candles, and entertainments using their finest crockery but tiny amounts of food. Calling or visiting friends is to be done at certain times, and length of each visit is strictly determined. All this life is described by Mary Smith, unnamed to begin with, but developing in time to become an actual character who takes a thoughtful hand in the fortunes of the Jenkyns household and participating in several situations. The community is fascinated by the arrival of Captain Brown and his two daughters, as some conventions are compromised and tragedy befalls some characters.
This is a well- loved novel written by a woman with skill and compassion. It is essentially an entertaining read, first serialised in Dickens' publications, and only latterly collected into a book. In many ways it is not fictional, as Gaskell describes scenes from her own childhood and almost lists the small anecdotes of behaviour. As the novel develops, a plot of a kind emerges, as tragedy makes people behave slightly differently and entertain new possibilities. It remains an uplifting book despite losses to the community, as Gaskell shows the best in her characters. There is delightful fear as a long dark lane must be travelled, and a shortage of money addressed, yet there is still the cow who must wear memorable wraps, and a cat with a taste for fine lace. In many ways this is not an exciting read, and most interesting for those who like their humour subtle and their plots undramatic. It is not a long book, but it is strong on characterisation as Gaskell controls her cast of characters in a peaceful setting. It has much to say on the position of women with little or no education, the fear of outsiders and the myriad little disturbances of what some now call a multi thread drama. It is perhaps the antidote to the strong stories of Gaskell's contemporaries and differs from her own other novels; it is really a loving tribute to her own upbringing in a small town, a successful evocation of times already past.
We looked at this book in our book group today, and some members mentioned how they had been asked to read it at school, and got incredibly bored with it as a result. Some of us had watched the BBC version of 2007, and got a little confused because of the inclusion of two other stories by  Gaskell. There was actually a fascinating discussion on the changes in life since the books setting, but also how social differences and economics still led to unfairness today. While some began by not really appreciating the book, it was agreed that it was an interesting read and was enjoyed by most of us.