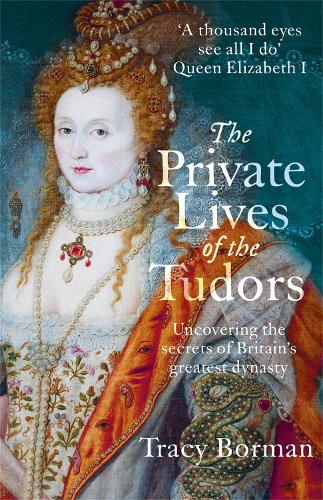 This immense non fiction book on a subject many people feel they know something about has one great advantage over many History books; it reads like a novel. Anyone with the sketchiest knowledge of British history has some insight into the remarkably short- lived ruling dynasty of the Tudors. Featuring only five actual monarchs, their diverse personalities and ruling styles meant changes to virtually everyone in the country, as religious practices changed, religious houses dissolved, and for the first time a woman ruled in her own name. This book goes beyond the big events and politics to reveal the tiny, intimate details of the lives of the rulers as they variously fought the forces of time, disappointment in male heirs, servants and attendants who knew so much of their often fragile bodies. This is an ideal book for everyone who has ever been curious as to how long it took to dress a queen with the "Mask of Youth" as well as those vaguely amused by such titles as "The Master of the Stool". The clothes, the cures, the paintings and the pets are all forensically examined, but in such a flowing and natural way that a vast amount of information is absorbed without apparent effort on the part of the reader.
As with all the most comprehensive books on the Tudor dynasty, this book opens in 1485 with the confirmation of Henry VI as undeniable ruler following thirty years of instability and worse in the wars of the Houses of York and Lancaster. While there was relief at this advent of a king who quickly married the surviving heir of the House of York to confirm the end of dispute, there were still unanswered questions about pretenders to the throne which threatened the very life of Henry and his wife Elizabeth. Borman gives us details of not only royal beds, pregnancies and clothes as status symbols, but also expands into contrasting with that of the other people in the country, who remade clothes and left them in wills. The section on Henry VIII reveals his obsession with his clothes and how few survive as he handed them on as generous and sometimes political gifts. His obsession with his health and the concoctions he depended on showed his real fear that he would die without a solid succession; his sole male heir was highly prized and guarded from the moment of his birth. Edward's own reign was dominated by the politics of those around him, as his minority rule meant that his contact with even his half sisters was closely monitored. The many theories as to his health and early death are dealt with here, as even the best medical advice of the time was unsuccessfully applied. Mary's brief reign was dominated by her marriage and her unsuccessful attempts to bear a child, her likely long term health problems are also aired. It is when she writes of Elizabeth that Borman really expresses her knowledge to the extent of how long it would take her to dress, her taste for gorgeous and expensive fabrics, how the make up she favoured all contributed to her image as the goddess queen, above mere human aging. The long section on her death is fascinating, as her will to live and her refusal to accept her frailty persisted. Her successor, the Stuart James, is quickly dealt with as the contrast with the glory of her person and her carefully constructed reign.
This well illustrated book is surprisingly easy to read, yet with over seventy pages of notes and index this is a thoroughly researched academic book in its own right. For general readers, for those with an academic interest, for all those fascinated with the Tudor monarchs and those around them, this is a fascinating book and an undoubted treat.
I have actually got a signed copy of this book as Northernvicar and I travelled to Hampton Court and heard Tracy Borman speak on this book with excellent illustrations. She is an excellent speaker and generous with her vast knowledge of the Tudors. I have been lucky enough to get a copy of her first novel "The King's Witch" to read and review, and already I have enjoyed several hours of this brilliantly written book. Highly recommended thus far!