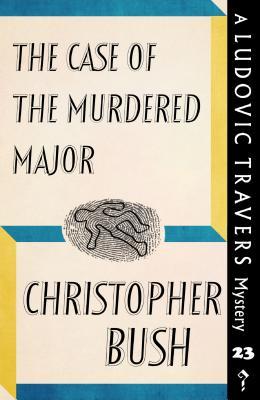 Another Ludovic Travers Mystery, this time originally published in 1941, but this time the genial amateur detective is in a far different role. This book has recently been reprinted by Dean Street Press, and marks the first of Bush's books set in and dealing with wartime experience. Featuring life in a closed community, and giving many details of military procedure, this is a fascinating insight into the claustrophobic conditions in a prisoner of war community at the outbreak of war, but more specifically giving an acute perspective on the human interactions which precipitated a fictional murder, and the deductions which allowed it to be solved. In a way a brilliant book about a man who upset many, this is also a technically clever book of mystery and motive.
Our hero, Ludovic Travers, has become a Captain and Adjutant, or second in command, at Prisoner of War camp somewhere in Britain. Based in an old hospital, there is plenty of room to manoeuvre for the British unit of soldiers who are to guard prisoners and the eventual consignment of German sailors and others dispatched to the site. It is a place apart with fences and guards, which is an ideal setting for a murder mystery as any and all suspects have to actually be on site. Internal alibis are one thing, but the net is drawn around those who have official business in the camp at the time in question. Travers is the ideal man for the job of military administration on which such a security based role is dependent, but there is a downside in the form of the Commandant with whom he is meant to work. Major Stirrop is a quixotic, infuriating, self obsessed man, full of his own audience, full of bluster and no leader. He maddens many of his officers by his frequent changes of mind, inefficiency and unfounded accusations of insubordination. On a personal level several have motives for murder, alongside a group of prisoners intent on escape and acts of disruption. Travers has to oversee difficulties with a variable number of prisoners when counted, mysterious comings and goings and sufficiently weaponry on site to create major problems. Add in some snow and tensions with senior military figures, and Travers has his hands full. It is only when a figure from his own past arrives to take control of the investigation that hope for a solution emerges.
In many ways this is quite a specialised mystery novel, with the intelligent use of the military framework with which Bush was very familiar. All is made clear, however, and the reader would be able to solve it without any real military knowledge, largely owing to the introduction of a civilian professional detective. Superintendent George Wharton makes a welcome character as he is not limited by military regulations, which force Travers into an observation role for much of the investigation. As could be expected, there is a shortage of female characters in this nearly exclusively male setting, but there is one woman to lend further confusion. This is a most impressive work of its type and era, labelled by Curtis Evans in his informative introduction as the first in a trilogy of wartime Travers books. Definitely worth tracking down as a murder mystery with many interesting side issues, and a fascinating piece of wartime fiction in any sense.
Meanwhile our second harvest supper went well, with Northernvicar doing the washing up! (Well, it was either that or barn dance). I spent a happy few hours at Meadowhall on Friday, which is a Northernreader friendly environment, and acquired a few new hardback fiction books. Now "The Silence of the Girls" by Pat Barker is claiming my attention – a little different from the above!