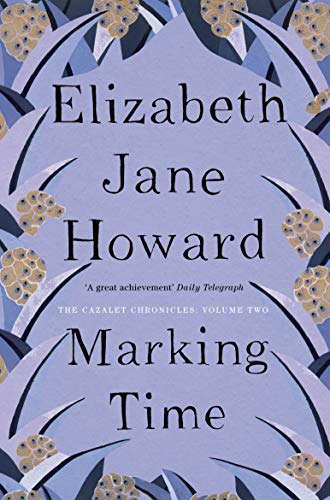 The second volume in the Cazalet Chronicles moves an extended family into war. At least three generations are living in a large family house, but it is the children who have come into focus as the decisions of their parents, the actions they take, have a profound effect on these young people and their daily lives. As in the first book in this series, what is unsaid is often as powerful as what is said in a gloriously realistic portrait of not only a family, but those people who come into contact with them. This is a picture of a world going into a War that everyone expected, but that no one understood what it would mean on a daily basis. While the young people fight all the normal battles of growing up, the increasingly shabby setting of a world of shortages and loss begin to creep into a desperately realistic portrait of life.
The novel opens with the announcement of the beginning of the Second World War in September 1939, and the immediate aftermath of the news broadcast on the radio. The Brig, the patriarch of the family, acknowledges silently that his older two sons have fought in the First War, and that Hugh still bears the physical and mental scars. We see the scene from Polly's view, as she begins to assimilate the implications of this new conflict. Evacuation of children, movement of adults to the countryside, shortages of food and the difficulties of getting in and out of London all begin to bite, in this novel seen through the eyes of young people. Even three houses and associated buildings become crowded as elderly relatives, servants and Miss Milliment all congregate at Home Place. They are not secluded from war, as a plane comes down in a local field, and Christopher takes control. Louise finds alternative places to be, though becomes bitterly confused by the nature of love as she feels betrayed by her member of the family.
Howard cleverly portrays the long term issues through the novel, as love and even lust continue, devotion and concealment keep people together and apart, as illness and hope defy logic. She manages to describe the settings so vividly that sounds, smells, textures and impressions dominate the narrative to make the experience of reading this book so immersive that the considerable length feels necessary and natural. Some books in various series can be read in isolation, but to really appreciate this book reading the first would truly help and make the characters understandable to the reader. This book is a tremendous experience of reading about people who feel real. Real life is messy, throwing up lots of questions about relationships, especially for teenagers who are bored, isolated and forming temporary alliances. There are two sections which look at the family as a whole, compared to six sections which detail events from the point of view of the older girls. Little things become important, especially for the girls who feel poised, waiting for life to begin. There is a desperate love, a despairing among some of the adults, amid the compromises to duty they must all make on a daily basis. There is also humour, some hope, and lovable, understandable characters and actions. The Cazalet Chronicles are Howard's great achievement, and this second episode is such a well written novel in any sense.
We have had a busy Remembrance Day or indeed weekend. We sang in a concert on Saturday evening featuring many songs with war themes, then several services yesterday. Daughter and I sang in a service containing the main pieces of Karl Jenkins "The Armed Man", which is a challenging but wonderful thing to sing. We also went to see the film "Bohemian Rhapsody" about Freddie Mercury and the group Queen. Having loved their music for as long as I can remember, I was (very quietly) singing along at many points. I don't think anyone heard me….