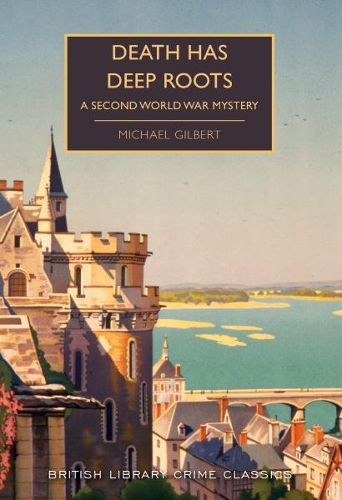 A British Library Crime Classic which is subtitled "A Second World War Mystery" is actually set after that conflict, as several of the characters are desperately looking back to find the truth behind a more recent murder.This is a dramatic novel which uses the device of a murder trial to frame and inform much of the action; a woman stands liable to the death penalty unless her legal team can find out what really occurred in this sealed unit mystery. As the correct legal niceties are exercised in the court as a result of Gilbert's own considerable expertise and experience, a thriller plot unrolls as Nap, solicitor and inexperienced amateur detective hunts through France for the vital clues that will help to establish identities and motives. This is a murder which indeed has deep roots in an occupation and resistance which has spilt into the narrow streets of London several years later. In his typically informative introduction Martin Edwards not only establishes Gilbert's unique knowledge of the forms and background to this excellent novel, but also the vital difference between a thriller and a murder mystery which he seems to combine so effortlessly. I was so pleased to be given the opportunity to read and review this excellent addition to the British Library set.
As the Central Criminal Court fills for the trial of Mademoiselle Victoria Lamartine, there is much eager anticipation of a spectacle. There is to be a surprise, however, as a different lawyer steps up for her defence. The judge agrees to move the case to the end of his list in order to allow a different emphasis to be given to the facts and a different plea to be entered, and thus eight days are granted for investigations into a matter which necessitates no little danger for those who undertake to find out more. As  firm of solicitors is instructed who are more used to steady questions of law than murder trials, a young lawyer meets with the young woman and begins to assemble the facts. The roots of the matter surround the activities of landowners, farmers and crucially resistance fighters in Occupied France. If it can be proved that Lamartine had motive for the killing of Major Eric Thoseby, the case against her seems likely to be proved.It is this aspect of the case that Nap must go and investigate, which proves to be no light matter as for some, the brutality of war is not just a memory. Happily he has some help, even if that seems very suspicious. Investigations into the death of Thoseby in a small London hotel seem safer, until a brutal bar room brawl leaves even the most experienced of investigators nursing wounds. Much hinges on the ability of a murderer to gain access to a hotel room which was seemingly under surveillance at all times. Also the wandering eye of a young man which may have fixed on several women could provide an alternative explanation for many events, if only he can be found as time ticks past.
This is a complex yet satisfactorily explained book which combines the tension of a thriller with the clever courtroom drama of a true master of the art. The actual murder which seems impossible for anyone else to have committed is relatively straightforward, but the background and explanations are complex. As famous lawyer Macrea pulls out all the stops to defend his client, I was intrigued as to how he could convince the jury to try to understand how a woman who had survived capture by the Gestapo was innocent of brutal and effective violence. It was good to read a novel in which women were active participants and not just hapless victims or extra witnesses,and all things considered this is a well balanced book. As part of an excellent series of  Michael Gilbert books this is an excellent book, and a satisfactory read on many levels.
Later today I am due in church to take part in a service which contains Faure's Requiem. It is going to be a big sing! It will be especially powerful as I am told that Faure lived in Paris and therefore would have known Notre Dame well. Enjoy is probably the wrong word, but I am sure it will be a memorable event.