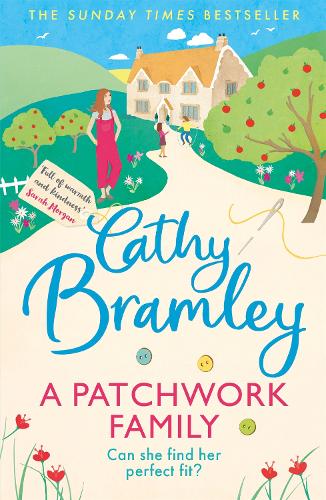 A contemporary tale of a woman who finds the value of asserting herself in order to get what she actually wants becomes in Cathy Bramley's hands a well written account of life and many kinds of love. Gina loves her life in a small friendly village where she has established herself as a child minder, but there are things to surprise and worry her. Her friendship with three extraordinary older people means that she suddenly resolves to be different and work for what she actually wants in this book of family of many types. She feels that her parents have ignored her, she has drifted into divorce, and that real love has eluded her. It has taken a crisis to convince her that she must change and fight for what she wants and some other people need. Her friendship with all sorts of people in the village means that Bramley skilfully raises the idea of all sorts of families and all sorts of love in her memorable characters. This book is a blend of tales of village life and the story of one woman who discovers her ability to fight for greater opportunities.
The book opens with a meal to mark Gina's divorce from Eric, well known to be amicable but demonstrating her attitude of consideration, as she has agreed to accept that he will carry on running their business with her ten per cent shareholding. She returns to her cottage, small and packed with the equipment she needs to run her highly successful childminding business, which she does with flair and a real affection for the children she  cares for. She has friendships in the village with another childminder and the owner of a local cafe. Her strongest relationship is with Violet, Delphine and Bing who live in a lovely large house which is on the same estate as her cottage. When she is asked by the temporary head teacher of the village school to help with a pair of twin girls, Isabel and Lily, she is impressed with his concern for all the children. Tragedy strikes, and there is a sudden impetus to make the most of life in every way as well as find a new home for not only herself but two vulnerable people. To confuse the matter further she encounters someone who gives her mixed messages, but that she soon realises is very attractive in lots of ways. As special events draw near, she realises that if she is going to succeed it is not enough to be an excellent childminder, but also come up with viable plans.
This is a book which as well as telling a light hearted story makes some strong points about the battles of love and relationships in a small village. There are several developments which are surprising, but are all within the bounds of credibility and fit well into the story. Not all the story takes place within the village, and there is a spectacular visit elsewhere. I found this a really enjoyable book, full of hope and genuine affection. This is a lovely read which I recommend to all those who enjoy these contemporary tales of romance and human interest, with humour and understanding.  
I wrote a post about comfort reading the other day, and several people commented with their favourites, many classics such as Georgette Heyer and Angel Thirkell, who I thought was less well known today. It is a good thing that Virago Modern Classics have reprinted quite a few so that many people can get access to her novels. Not many people mentioned this light sort of contemporary book, but they are undoubtedly a cheerful read which many people enjoy. Keen readers of this blog will know that I have been enjoying Trisha Ashley's books over the last few months, and there is no shortage of  (mainly) women writers who produce this sort of cheerful female led book. Have you got any favourites?