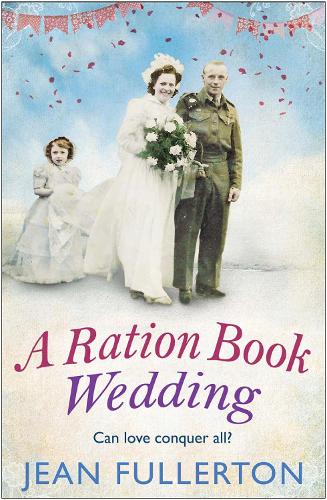 A Ration Book Wedding by Jean Fullerton
A husband unaware of his wife's real occupation during the Second World War was not uncommon, but in this novel set in 1942 imagines a powerful example. Charlie Brogan is fighting with the Eighth Army in a desert in North Africa, his wife Stella is not working in munitions as he believes, and his family who care for his infant son dare not tell him. Moreover, his childhood friend Francesca Fabrino is working underground every night on munitions, and thinking of Charlie who she has long loved from afar. This is the fourth book in a series looking at the unusual Brogan family of London, an Irish Catholic family who include three sisters, Charlie and two younger boys who have become part of the household via different routes. The skilful element of this book is the way that it stands alone, featuring a story that has links back to the previous books, but it has very much its own story which is complete in itself. It is a wartime saga; it has distinctive characters who have to respond to events that are unprecedented in a London now enduring nightly bombing raids. It creates opportunities for women like Francesca to work for the BBC, and also less salubrious activities for women like Stella. This is a book filled with detail of the look, sounds and experiences of the Home Front, full of the texture of the nightly descend to the underground shelters where spaces were established for regular shelterers. It is a book which envelops the reader, engaging interest in the individuals involved, keen to discover what will happen.
Francesca is first seen making aircraft components on a night shift under Wanstead station. At the end of her shift she returns to the cafe that her father runs, struggling to maintain a service in the face of local bombing. She thinks of Charlie, away in Africa but also married to another woman. Charlie's life in a tent "hundreds of miles from civilisation" has few comforts, especially as his wife Stella's letters are virtually non existent. He longs to meet his small son Patrick, who he only knows from a photograph. Stella Brogan is appearing on a stage as "Salome of the Mysterious East", dancing a solo which involves removing virtually all her clothing. Charlie's mother Ida is well aware of her daughter in law's actual employment, but Stella threatens her with taking Patrick from her nightly care if she tells Charlie. Queenie, grandmother and matriarch of the Brogan family, is far more blunt on the subject of Stella's morals than anyone else. When Charlie is returned home injured and he discovers the truth about Stella, life gets more intense. Francesca is offered a job with the BBC, and meets someone who distracts her thoughts from Charlie. As the lives of Charlie's sisters continues alongside this main story, there are themes such as domestic violence tackled, which leads to probably my favourite line in the novel, from Queenie "Now Stan knows our mind on the matter…perhaps we can be about our victuals".
This is a vibrant and beautifully written book which really engages the reader from the first page, and maintains interest throughout. The characters seem to come alive and their reality is fascinating. The disastrous marriage of Charlie and Stella becomes a central theme of the novel, and the fallout affects so many, not least Francesca. It is a complete story in itself, but the references to past and to an extent future events give it an extra dimension. It handles a wartime wedding brilliantly. I think that this is a most enjoyable book which I recommend to anyone who enjoys an engrossing read.
A few months ago I posted a blog which promoted this book, and I was pleased to finally get my hands on a full copy. As you can see I thought it was worth the wait!