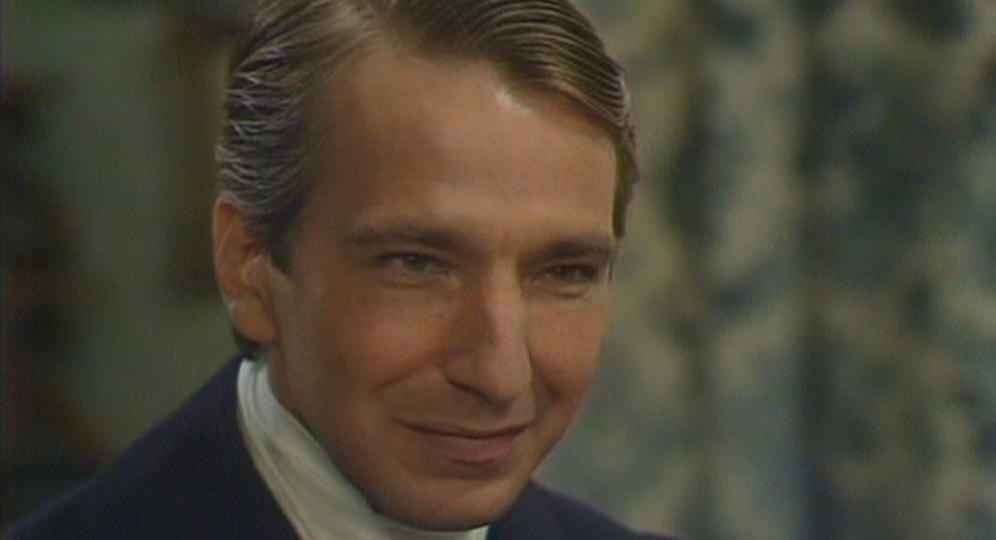 (A Photo from the Trollope Society of the late, great Alan Rickman as the odious Obadiah Slope, Chaplain in the BBC version of the Barsetshire Chronicles)
If you liked Trollope's "The Warden" you will love "Barchester Towers". It would be wise to read "The Warden" first as the characters and setting are depicted only a little while later. Barchester Towers is a far more sophisticated book, with many more characters of significance and intertwining story lines. Instead of the issue of the amount paid to Mr Harding, lines of battle emerge between the clergy and their supporters, and true characters emerge.
Mr Harding has resigned and moved from Hiram's Hospital, Eleanor married and lost John Bold, but has his son also called John. Otherwise life has continued, except that the Bishop is dying. The exact time of death is vital to his son who has hopes of the bishopric. Without spoiling the novel, Bishop Proudie arrives in Barchester, with the soon to be infamous Mrs Proudie and his chaplain, Mr Obadiah Slope. They represent everything that is contrary to the established Cathedral clergy, in music, practice and the importance of the Sabbath. When it becomes known that Eleanor Bold is a rich widow, more than one man decides that he should woo her. The picture is further confused, interestingly for the reader, by the Stanhope family returning to the Cathedral close. Undoubtedly my favourite character in the novel is Signora Madeline, younger daughter of the Stanhopes, who is a supreme operator from her elegant sofa. Altogether this is a fascinating novel, a comedy of church politics, with all the joys of quarrels and small wars.
This is a complicated tale of greed and family needs, with the aptly named Quiverful family, vested interests and traditions clashing ever so politely but effectively. Stylistically Trollope is always in control, and it is in the first quarter of the book he announces that the reader need not be concerned with the possibility of one undesirable marriage taking place. This is an author confident that he will not spoil the reader's enjoyment with a premature reassurance; he knows that he has enough material to maintain the reader's interest without increasing the tension. Indeed, tension is not something running through this book; it is an enjoyable read with realistic characters for the time who enjoy situations where there is no real peril. Mrs Proudie is the ultimate power behind the throne, whose own opinions and actions are commonly known to dominate those of her weak willed husband. All of the women in this novel are fully realised characters whose choices and actions have far more influence than any of the men around them appreciate. I think that this is what sets Trollope apart from Dickens, whose women do have their limitations. Trollope revels in setting up a community where men appear to have the power and influence, but who are really driven to action by the women around them. He manages to accomplish much in this novel without padding or great length, and together with "The Warden" it is deservedly one of the undervalued greats of Victorian literature.
So do try and read these books; as classics they are available electronically either for free or very few pennies and hard copies frequently appear secondhand. I will return with some newer books, though as I am due to investigate Elizabeth Gaskell's house in Manchester shortly, who knows?