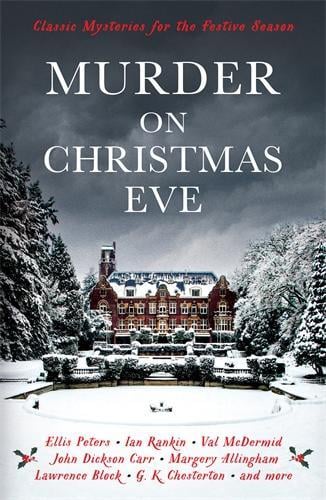 This is one of those books that, despite the title, can be read at any point over the festive season as the stories are not completely linked to any one day. Edited by Cecily Gayford, they are winter tales where the weather is more significant than festivities. These are gentle mysteries that do not always feature a murder; where they do they are not gory tales or frightening thrillers, just elegant or funny mysteries, showing the best of their various authors talents. Such authors as Ellis Peters, Ian Rankin, and Val McDermid are at their best here, with representative little stories of deception, loyalty and desperation, all in keeping with their full novels.
This collection works so well because the mix of authors and stories mean that there is always something to draw the reader in, and often provide a satisfying collection. While Rebus ponders at a Dickens inspired party, McDermid looks at the loyalty of spouses. The classic writers such as John Dickson Carr present an impossible murder, and Margery Allingham's Mr Campion gets a Christmas mystery. My favourite is the 'detective' cat that Ellis Peters depicts behaving in a very convincing way to help solve a nasty murder. Another gem is a very funny missing manuscript tale, a parody of hardened detectives with a hint of adult humour.
As with any collection of stories by different authors, some stories appeal more than others. The quality of all these stories is high, and they are classics of their various types. This is an ideal book for gentle consumption in those days when a full mystery novel seems too much, but puzzles still beckon. Not just for Christmas, but for the winter season.
This is certainly an easier and quicker read than the enormous book that Northernvicar was sent out for as part of my Christmas present (he collects railway dvds of an incredibly obscure nature, so all is fair). "Deadlier" is a collection of one hundred of the best crime stories written by women, edited by Sophie Hannah. I think I may have to review it before I have read all 100, but those I have found so far are classics. It should keep me quiet for a while…