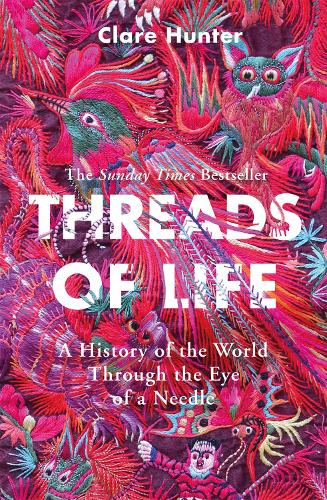 Threads of Life by Claire Hunter
This is a "History of the World Through the Eye of a Needle" , or at least a history of the ways in which needlework has sustained, been a means of recording lives and making a protest. It makes a significant point, that as women have been the most likely to work with a needle and threat, those works of needlework that survive in a variety of places are the special history of female makers. Many pieces of work are fragile, unintended to last or temporary works, remembered as existing but not always treasured. This book records the impetus for embroidery, to beautify, to pass on traditions and to make a mark in the only available way. This book does not only dwell on the huge and important works of embroidery proudly displayed as evidence of wealth, but also on the few plaintive stitches made to record time on a piece of clothing, as well as the earliest use of sewing to join fabrics together and make rudimentary clothing. The author has a wide experience of sewing with a purpose herself, ranging from community projects to banners to mark historic events in the history of women's lives. The writing does not always adopt a strictly chronological or indeed geographical approach, but instead has a personal and engaging style. I am so pleased to review this non fiction book. 
This book is so readable as it takes a discursive approach to the history it presents. It gives a reaction to the Bayeux Tapestry, one of the most significant pieces of embroidery or needlework in European history. As a political piece of work it has had great importance as a historical document, but it also has intrinsic value as revealing much about the circumstances in which it was made, the limitations of materials, and the possible additions made by the women who worked on the tapestry. She goes on to describe an important historical figure whose embroidery was much remarked on, Mary, Queen of Scots. It describes how she used her undoubted talents to attempt to enhance her Scottish royal apartments, then to fill her many hundreds of hours of captivity. The book goes on to remember women who spent time in captivity of many sorts, and how they sought to come to terms with it through sewing, however primitive or complex. 
The book speaks of marvellous survivals, from earlier centuries to Japanese Prisoner of War camps in the mid twentieth century, precious documents that may or may not be identifiable. As sewing for mental health is discussed in the background to many pieces, there is a nod to those men who were taught to sew after the trauma of the First World War, and the altar cloth that was found and was recently displayed in St Paul's Cathedral. Sewing as a means of making a living is covered, though also the intense pressure on piece workers who had to risk their eyesight and more in hand finishing items of clothes. While girls were taught to make samplers which are now collectable, Hunter has some harsher words for the kits and patterns which restricted creativity and were intrinsically unsatisfactory.   
There are chapters on the international world of sewing, as stitches and patterns were important contributions to community life, and a vital way to pass on skills and memories to younger generations. Sewing as protest is covered as the author recalls the history of banners, especially in terms of unions and areas of women's protest movements. Politics with a more local emphasis is also referred to, as community projects have played a vital role in sustaining and reinvigorating communities going through testing times.
As an admirer of embroidery and sewing generally rather than a practitioner, I can appreciate the inspiration and information that this book provides by its immensely readable style and enjoyable anecdotes which sit well against the historical elements. It is a skill which has reflected artistry for centuries, mainly by women, and therefore I feel that this book has an important and inspirational part to play in any analysis of women's history, as well as being a fascinating read.  
An admission here – I struggle to thread a needle, but have made a quilt or two, with the assistance of a considerably more skilful daughter. This book has much to recommend it, even to those of us who frankly can't sew, but would love to at some point. I have not seen much evidence of sewing projects over the last few months on social media, but I suppose that it is because those who sew are not surfing social media as much…