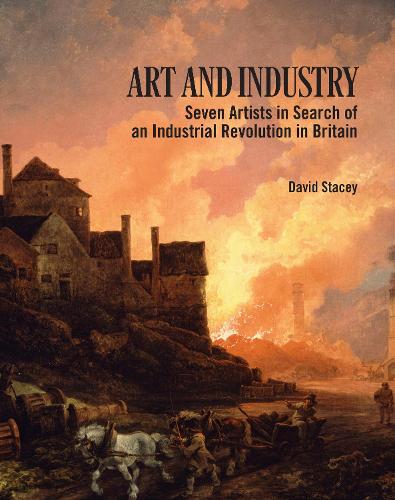 Something a little different on Northernreader today – Northernvicar writes a review of a non fiction book (and he knows his stuff, so I have just edited it…)
David Stacey, Art and Industry, Seven artists in search of an Industrial Revolution in Britain
This attractive and informative book is by a Civil Engineer with a degree in the History of Art, and I found it fascinating. The seven artists are Joseph Wright, John Opie, Phillippe-Jacques de Loutherbourg, Penry Williams, William Havell, JMW Turner, and Henry Hawkins.
It covers the period between 1750 and 1830, and is a well-illustrated discussion of the work of seven artists and where their work fits in with the huge changes the country was undergoing. Stacy builds on the post-War work of Francis Klingender, through to Celina Fox writing in the last decade, and discusses many of the influences on Art, both those from the Continent and from people like Edmund Burke and Joshua Reynolds. There is an extremely useful time line of the Industrial Revolution, and complete lists of all the sketches, drawings and paintings that he refers to, as well as a list of the illustrations that appear in the book itself. A vast bibliography makes this book an excellent starting point for further research. The index is a carefully combined list of names, places and much more.
He starts locally to Derby with Joseph Wright and the Cotton mills of Cromford, with portraits of Sir Richard Arkwright and paintings of the mills themselves. The Lombe brothers had built a silk mill in Derby in 1721 and within fifty years Arkwright had mills all along the Derwent. Wright painted them in the 1790s, and the text discusses the life of the men, women and children employed there (although they were not painted) and other aspects of Wright's life. He writes about attitudes to slavery, and discusses Wright's painting "A Conversation of Girls", a painting which raises issues of race and colonial power – sadly, that painting is not depicted in the book.
John Opie's "A gentleman and a miner" takes us to Cornwall, where the miner Captain Joseph Morcom (1744-1827) is handing a specimen of copper ore to Thomas Daniell of Truro, a man who was a major investor in the Cornish mining industry. Opie himself was born in 1761 in the mining are of West Cornwall, and eventually moved to London. His talent was recognised by Sir Joshua Reynolds, and Stacey gives us a good biography of him and his work, as well as telling us about Daneill and Morcom. One of Boulton and Watts steam engines can be seen in the background, and this power drove mining developments, enabling them to dig deeper. Yet the economics were always difficult, and the life of the working poor very different to that of the investors.
I remember buying a postcard of "Coalbrookdale by Night" when I was a lad and we visited Ironbridge, and I now know more about its painter, the Frenchman, Philippe-Jacques de Loutherbourg (1740-1812). He designed sets for David Garrick, and his first major journey into England was in 1778 when he came to Derbyshire collecting material for The Wonders of Derbyshire, "a pantomime entertainment devised with Richard Brinsley Sheridan and first performed at the Theatre Royal, Drury Lane in January 1779" (page 43). In 1801 he visited Coalbrookdale and the Severn Gorge. Stacey describes the history of the works there and other artists who made a record of all that was going on. Some of the artists hint at the working conditions, but even now Coalbrookdale is such a beautiful Valley, it is difficult to picture what it must have been like to have toiled there, hour after hour, day after day. I enjoy Blist's Hill Museum, but always feel guilty at the leisure I have to enjoy it.
In South Wales he writes about Penry Williams and the ironworks at Merthyr Tydfil. Williams was a local man, and he includes some of the labourers in his pictures. Industrial relations in the South Wales valleys were never easy. Chapter 5 discusses William Havell and the Welsh Copper industry, a lot of it on Anglesey. Much of the ore was shipped to Swansea where it was processed, and then exported – Manillas, bangles used a currency in Africa and the slave trade. There are pictures of mines and staithes – fascinating to compare the staithes on the River Tawe in South Wales with those on the River Tyne sketched by John Wilson Carmichael a few decades later.
The most famous name in the book must be J.M.W. Turner, and Stacey writes about his paintings of canals from Lancaster to Dudley, and across to Leeds and south to Chichester. A book of drawings of canal construction would be fascinating, it is interesting to see that Turner shows them as fitting harmoniously into the countryside, just as painters would show the railways blending in so quickly after construction.
Back to North Wales for the final chapter, "Henry Hawkins and the Penrhyn Slate Quarry". I have several dvds which show the quarry at work 150 years later, when there was a little more health and safety than there was when Hawkins painted (in the early 1800s there were 150 injuries and 7 or 8 deaths every year). Hawkins includes pictures of the workers and the deplorable conditions they laboured under.
Altogether this is a scholarly book which is extremely readable. I recommend it to anyone interested in the art work that captured the beginnings of the biggest social developments in Britain's history.