The BBC version! Harriet Walters and Edward Petherbridge being academic….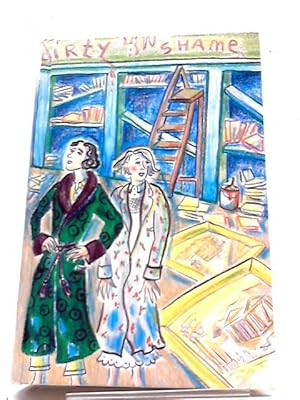 This book must rate as one of my all time favourite novels. Gaudy Night is all the things that Sayers does well; characters, especially the so realistic Harriet Vane, setting, Oxford at its best, and a mystery, which proves that a gory murder within the first three chapters is not essential. Harriet feels so real because she is the centre of the book, the reader is told of her doubts about the wisdom of revisiting Oxford let alone becoming involved in the mysterious persecution of the College inhabitants, and crucially her perspective on Lord Peter Wimsey. The reader, together with half the characters in the novel, fall for Peter's undoubted charm and abilities, and obviously Sayers writes with real affection for her creation, yet with a realistic view of some of his weaknesses. Oxford is at its best as the colleges, towers and river make it into another character in this book; not that there is any shortage of academics, students and staff bumping into each other in many ways.
Harriet Vane, author of thoughtful mystery novels and survivor of a murder trial thanks to Peter's intervention, finds herself drawn back to her old college for the annual celebrations. She realises that she has become a notorious character for her contemporaries, not least because of her links with the famous Peter. She is fascinated by the fates of the other women who have married or who have chosen a career. Her return to London feels wrong as Peter disappears and her novel does not proceed well. When she is summoned back to Shrewsbury College to help solve a mysterious poison pen mystery, she decides to stay, do some academic work, and help the senior staff maintain peace and order. She meets current students and tries to understand undergraduate life; especially when she encounters Peter's nephew. She becomes embroiled in his difficulties, not least having to contact Peter, who proves as elusive and surprising as always. The mystery is not really dangerous in terms of murder for most of the book, though there is a disturbing element when Harriet and at least one other seem to be in grave danger. Peter's contribution is not to dominate as he graciously admits that Harriet has done most of the work; certainly he is not seen as the superhero coming in to save the day, but bringing a new insight. Harriet is not a female detective in many ways, but she emerges as someone who cares deeply and is determined to discover what is going on, and why, in an institution that changed her life.
This is such a super read that part of me could have rushed through each episode, each reflection on Oxford life, each observation on the largely absent Peter. To do that would have spoilt some of the enjoyment of a novel that Sayers obviously enjoyed writing with enormous confidence. There are times when it is self indulgent, when Sayers is showing off her considerable education, when she makes jokes and comments in other languages. It is a big book, and reading some editions has put me off as this book needs to be read comfortably and savoured. The folio edition is therefore the ultimate version beautifully printed. I can see that Sayers is an acquired taste, but this novel is enough to send me off to seek the other Sayers book as soon as possible.
This is the final book in the Folio set that was Northernvicar's last minute Christmas present. At least I read it before this coming Christmas. It is a lovely, lovely novel, and so enjoyable in this edition. Thank you, Northernvicar!