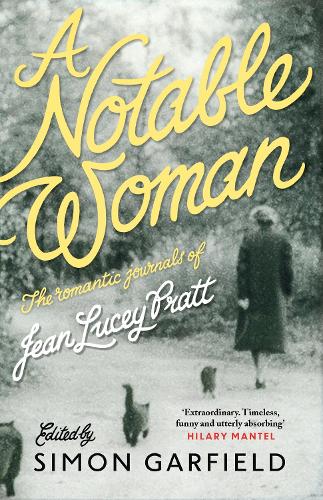 This is an unusual book in many ways. It features a woman's diaries which covers most of her life, yet she was not a great celebrity. It does not focus on the Second World War or any other specific period of great upheaval, except the mid twentieth century generally. While Jean Lucey Pratt did write a biography of an actress which achieved some notice, her other writings disappeared. She was in many senses an unremarkable woman, but her journals which cover two thirds of the century disclose personal observations and thoughts on her life and the world generally that their very honesty compels attention. They have a unique quality of drawing the reader in beyond their actual content; a portrait of any individual can be fascinating if they are as well written as this one, especially edited with such skill as is shown here by Simon Garfield.
Jean Lucey Pratt started to write her journals in 1925, when she was fifteen. She described her family, her friends and those she was attracted to with accuracy that they soon emerge as real people, behaving as oddly and unexpectedly as family and friends appear in a young person's eyes. Soon her attraction to people emerges, her feelings described with such searing honesty that she becomes a person of consequence. Her coverage of the war years is not dramatic and adventurous, as she finds the work that she can do does not involve a uniform. She goes on to describe her love life, her disappointments and her attachments. Friends bring joy and confusion, and she finds great interest in her somewhat solitary life in a cottage as she listens to the radio and lives with cats and kittens. Her writing is vitally important not only as an expression of her talent, as she is aware of her perilous financial situation, and knows she must try to raise money by any means while she tries to maintain her small household. Ironically it is these journals for which she will be remembered, even if she had little idea of their value as social documents.
This is not a book for everyone as it has little plot, beyond a life story, and that is one which is geographically and socially limited. If you are interested in the minutiae of the daily life of a woman of the twentieth century, this is a fascinating record of real life. Garfield's editing apparently removed much of the cat- based repetition which could have become boring, but this is a record of the daily incidents in the life of a woman with few romantic illusions, but many relevant observations. I took a long time to read it, and genuinely enjoyed it as a book, and recommend it as both a good read and a fascinating social document.