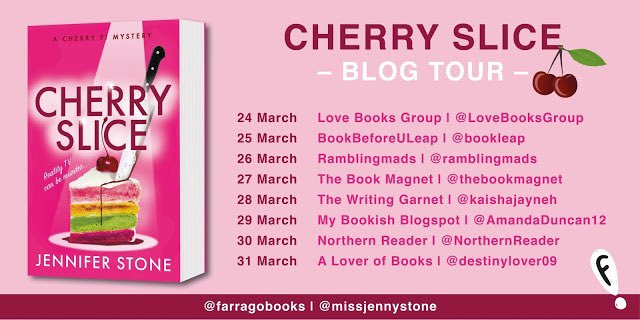 Cherry Slice by Jennifer Stone
This is a very contemporary novel, featuring reality tv shows, designer clothes and a lot about lesser known celebrities. The writing style is very fast and full of puns, most of which are linked to the locality of Essex. This is a comedy with a murder mystery, and the central character narrates her own story of following the trail of an already apparently solved murder. Cherry is certainly a memorable character at the centre of a community dominated by a high street full of unusual shops. She has a past; she was an investigative reporter for a local paper when she became a contestant on a reality television programme made by Expose, an Essex based channel. As she has questions based on a murder witnessed by thousands on live television, she has to visit some strange places and meet some even stranger people. This is not a subtle book, and has some very contemporary twists, but it combines comedy and basic humour to unusual effect. I was pleased to have the opportunity to read and review this book.
Cherry Hinton (possibly named after an area of Cambridge) was hounded out of her reporting job when she was discovered in a compromising position with a man on a reality show. Not that the scandal was a problem except to her mother, the wonderfully creation of Carol, the WI organiser with her network of friends and relations. It was discovered that Cherry was an undercover reporter trying to discover cheating on the show, and for that in an almost fantasy world of minor celebrity and constant reality television she has been condemned. She has taken over the running of her parents' cake shop and introduced new cakes with names of places in Essex, including the local police detective, Jacob Stow, with whom she has history. Another local aquaintance, Kenny Thorpe, was very publicly murdered on yet another reality show, but his sister asks Cherry to investigate the seeming confession of "Fat Martin", who has recently died. Thus Cherry plunges herself into an investigation which will mean her visiting nightclubs, and other dubious locations in order to find out the truth. She also has to maintain her cake making, with such treats as Southend Rock cakes, while dealing with the fallout from her notorious television exposure still a hot topic. 
This is a book which pulls few punches in terms of language, and indulges in some broad comedy. Stone has real skill in creating characters and settings that resonate with the reader; she makes some funny and probably accurate observations on the subject of minor celebrity and reality television. There is a lot of reality in this book as people are seen as desperate for fame and attention. Stone has certainly broken the mould for determined women private investigators in this lively, genuinely funny and engaging book. I found the character of her mother particularly memorable, with her misunderstanding of Cherry's actions but her whole hearted support of her daughter's progress. This book is the start of a series, and there is much more to come in terms of Cherry's haphazard investigative skills and the puns like Cherry PI. 
This was a very different book to review, which made a nice change in many ways. I have some interesting books coming along to post about, so watch this space for more reviews ( I've published over fifty this year alone – there are over 700 in total on the site, which is plenty to be going on with!)