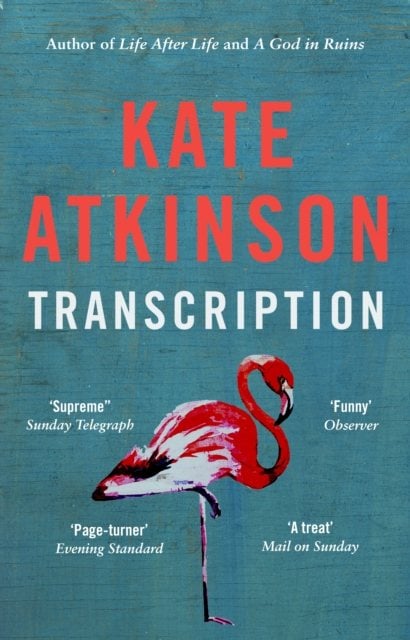 A novel of wartime in the hands of Kate Atkinson becomes a message that the effects of the Second World War lasted a long time, and the effects were not obvious. The novel is told by Juliet Armstrong in three different time periods – 1940, at the beginning of the war, 1950 when Juliet works for the BBC, and 1981, when Juliet is involved in a road accident.  The book moves around between the two earlier periods, when in both times Juliet had secrets and told lies. The book is told from her point of view, but not in Juliet's actual voice; apart from not telling the complete truth to any person she keeps vital things from the reader. This novel unusually has a bibliography and the author notes the sources of her inspiration, and the novel is full of the sort of research that conveys a real sense of the times. The writing is incredibly vivid, full of the sights and sounds of a London at war and then in post war austerity. There are several themes which run throughout the book, of Juliet's continual conflicts between her actual life and her dreams. That is further confusion beyond the various roles that Juliet is pressed into, the secrets that she keeps. This is an ambitious book written on several levels, and adds up to an intense historical thriller and character study.
In 1940 Juliet is requested to become involved in clerical work relating to a secret department attempting to deal with fifth columnists, British people who were followers of Hitler and his plans from within British society. She has a tragic background which means she has no family herself, and few real friends. Two of the men she works most closely with have their own agendas; Peregrine Gibbons is a man with a big secret, and Godfrey Toby is the man who attracts the suspects and finds out what they are actually plotting, but he is in turn suspected by at least one other person. Juliet, innocent of relationships cannot or chooses not to see what is going on, as witnessed by her inner dialogue which the reader is given. She is asked to undertake a further role of subterfuge, which brings with it additional problems and even danger. After the war there are still suspicions, still dangers, in memory and potentially more. Despite the black comedy of the BBC children's programme Juliet must oversee, there are currents of activity beneath the surface. 
This novel has a certain level of humour alongside the confusion and some brutal moments. Juliet is a complicated character, as there are implications of what she really knows and intends. As she goes about her life we do not really find out everything there is to know, and we are always left unsure about what she really understands. Atkinson is a very realistic and intense writer in this book; managing to find the humour in everyday speech and cliches, as well as describe a setting of fog and certain lifestyles such as the fancy sofas, the problems of typing from recordings and the problems of working out what people really mean. It is a complex read, and ultimately a satisfying one, and is a picture of a complicated character in a range of difficult situations. I recommend it as a strong read with much to admire in the construction of a marvellous series of characters.
I think this is the first Atkinson book I have actually read, although I admit to owning a few! I believe her well known first book, "Behind the Scenes at the Museum" features on our book group list later in the year, so I must read it at some point. I remember seeing a couple of episodes of a Jackson Brodie  television series a few years ago, so I will see if I can find one of those to read as well!