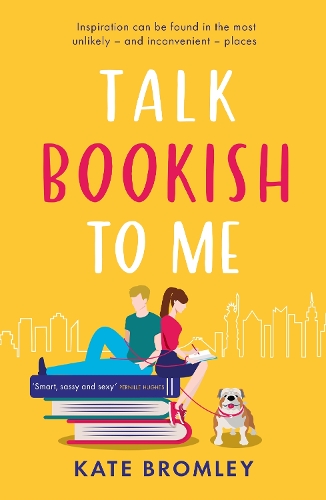 Talk Bookish to Me by Kate Bromley
Kara is stuck. A successful romance novelist, her deadline is getting nearer and she has no inspiration. This is a book which successfully combines a story of a tricky contemporary romantic encounter with extracts from an historical novel under construction, the success of which reflects the progress of Kara's relationship. This is a book about a writer's muse, about how the inspiration for writing comes, and the process of writing drafts.It is also amusing, featuring a dog called Duke and characters with a snappy turn for dialogue. For a book of romantic fiction the characters have a certain depth as they cope with memories of the past as well as hopes for the future. A major part of the book is centred around a wedding, so there is a certain romantic theme whatever the main characters choose to do. Kara is a young woman who has fond memories of Ryan, but also some guilt issues. Her immediate family, her mother and sister, have their own agendas, and she has some close female friends who are both challenging and supportive. I enjoyed the dialogue in this book which made it a lively and often funny read, which is a good thing when so much fiction is often a bit miserable. I was very pleased to have the opportunity to read and review this good hearted book.
We first see Kara in a lift announcing that she is maid of honour at the forthcoming wedding while trying to cope with a "Great-Dane-sized gift basket" which is "on the cusp of breaking both my arms and my spirit". This is New York, and Cristina is hosting a pre wedding party.This is a book in which no one is worried about money, despite the hints that Kara is rather dependent on the advance on the book which she is now fighting to complete and deliver. Suddenly she encounters a man she never really expected to see again, Ryan, who was the love of her college years, who surprisingly turns out to be one of the grooms childhood friends and thus a significant part of the wedding group. Despite her best intentions to be indifferent to the man who has affected every relationship since, almost against her will she is intrigued and attracted to him over again. The immediate effect is that she returns to her apartment and dashes off a chunk of her novel. Could contact with her old love be the inspiration she is looking for, even if he professes to be anything but a fan of romantic novels.
The book follows the progress of Kara as she spends some more time with Ryan, and she accordingly considers her options in the light of his past misbehaviour. Some of the characters she encounters are truly brilliant, and overall pretty realistic. What really sets this book apart is the extracts from Kara's historic novel, featuring a strong minded heroine and a hero with a hint of Mr Darcy about him. This is a successful addition to the book and really lifted it for me. Altogether this is an enjoyable book, a great escape from gritty realism, and has some funny dialogue.