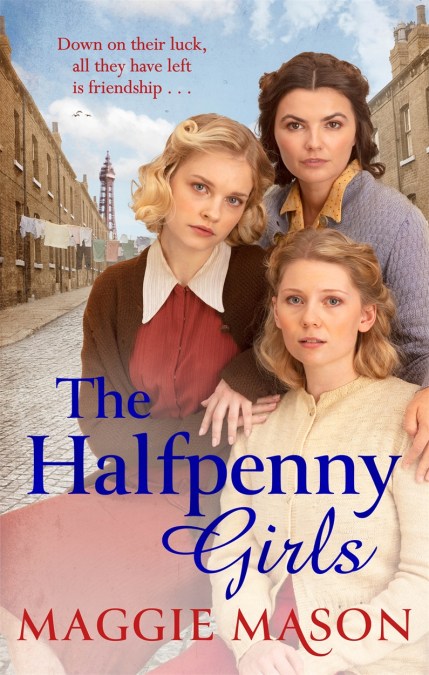 The Halfpenny Girls by Maggie Mason
Three young women live on one of the poorest streets in Blackpool in 1937. They have become very close, even when they are down to their last few coins, partly through their work at the local biscuit factory, but also because of growing up together in tough circumstances. Alice has a violent father and three younger brothers to keep together. Marg's Gran is losing her understanding of the present. Edith has a challenging brother and an alcoholic mother to contend with as well as a sick father. This book has its traumatic and difficult moments, but underlying everything is the friendship, even love, between the three women which extends to their families and friends as needed. A memorable night in the Tower Ballroom marks meetings that could give new hope, but how far can they trust the unknown?
Maggie Mason has created new characters in this first of a Blackpool based trilogy that linger in the mind, in a setting of a close community. As authentic aspects of life in the late 1930s are referred to, reading this book is an immersive experience of how those without many material resources struggled to cope, when the most basic healthcare cost money which could be ill afforded, when working conditions were tough and potentially dangerous, and food was relatively expensive. Despite all the challenges the women face, they maintain their closeness and mutual support, and it is this element which really runs throughout this novel. I was very pleased to have the opportunity to read and review this book.
The three young women meet on the way to work in Bradshaw's biscuit factory, and it becomes immediately obvious that Alice has received a severe blow in the face from her father. This is not a mark of straightforward domestic violence, as Alice's father was involved in rescuing a man during a significant incident in a factory, and his resulting head injury has transformed his personality. She has been trying to cope with him and her brothers ever since. Marg's father has died, and her mother seems weakened by breathing problems. As her grandmother is likely to roam if unsupervised, she has to pay for care, as well as encouraging her younger sister to stay at school and have extra tuition which will transform her prospects. Her Uncle Eric is a frequent and unpredictable visitor, sometimes helping financially. It is his gift of a pound note that means that Marg can pay for an evening of treats for the trio, which involve visiting the heart of Blackpool and indulging in a visit to the Tower. When Alice is whirled off to dance by a handsome young man, Edith has severe reservations even though she is asked to dance as well. Only Marg is left on the side, but as they later begin to return home they discover that a "rumpus" has erupted on the street, this time involving Alice's father who has attacked Harry, her oldest brother. Marg returns to find that her Uncle Eric's visit has involved alcohol and cigarettes, which has left her mother in a poor state, so that Ada, a nurse and unofficial first line of care must be summoned. Edith's streetwise brother makes observations of wealthy young men taking advantage of poor girls like Edith, but despite it all the young women have a glimmer of hope.
This is the sort of book that is so easy to become totally involved with in a good way. Edith, Marg and Alice come over as real people who are struggling to keep themselves and their families going. Mason is so well versed in this time that the story never becomes weighed down by research or explanation. As the book acknowledges the possibility of war to come, I look forward to discovering what happens next for this extended community.