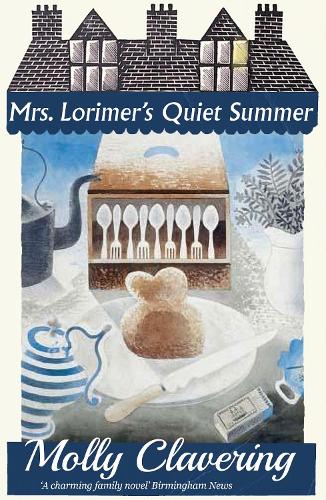 Mrs. Lorimer's Quiet Summer by Molly Clavering
It is always a joy to discover a new author who wrote successfully in the middle of the twentieth century, and Molly Clavering's work is a joy in its own right. No huge dramatic events, problems are family crisis, and there is an underlying sense of humour throughout. Focusing on the lives of two writers, the successful Lucy Lorimer and the less successful in terms of sales, Grace or Gray Douglas, possibly partly autobiographical, this is the story of the harassed Lucy as she deals with her awkward but loving husband, Colonel Jack, and her four adult children. It is these offspring that mean that Lucy's summer is anything but quiet, as she deals with their tantrums, their unique relationships and their problems. In all of these challenges Gray is a source of support, while having her own thoughts about life in the village.
The setting is almost another character; a village which has parties and gatherings culminating in the yearly show and beautiful accessible countryside which offers walks and picnic sites for when home life gets a little too trying. With an echo of Angela Thirkell, there is the difficult daughter, the distracted daughter in law and the lovelorn son to deal with, against the background of local characters who are all dealing with the after effects of a war which shook everything up even though the worse of the bombing was far away. This 1953 novel is funny, endearing and well worth the republishing by the brilliant Dean Street Press in its Furrowed Middlebrow series which goes from strength to strength. I was so pleased to have the opportunity to read and review it.
The book opens with Lucy being annoyed to hear from Nan, housekeeper and much more, that a local house Harperslea has been sold. She is frustrated because her ever expanding family including grandchildren is not easy to fit into their existing house, especially with their attendant nannies. For this is an age of genteel respectability, where Mary, the much loved wife of eldest son Thomas, gives of an air of distraction in which a cook cannot be kept who will provide wholesome and sufficient meals. Thomas is a successful doctor and Mary suffers from the loss of the excitement of her War service transporting planes for the RAF. When they all turn up at the same time for their summer get together, it is fortunate that Gray offers to take Mary and Thomas, as well as Guy, navel officer, for a few nights, as the latter is suffering the worst part of a romantic disappointment. Thinking of her offspring, Lucy confides that "Sometimes I wish children didn't have to grow up. One can do quite a lot for them while they are children, but now – It's so hard to have to sit back and watch them hurting themselves". Not that this is a miserable book; Lucy is a loving mother whose children are finding life tricky. Her husband is a lovely man who does not understand other people at all times, muttering dire imprecations about noisy children and their mess while fussing over his elderly and loyal dog. When a new character is introduced into the circle with an unfortunate name and a memorable father, more confusion is introduced. A crisis with the easiest of the children makes at least one character reassess his true feelings, and the day of the Village Show shows everyone in a different light.
This is a truly delightful book which introduces characters coping and adjusting to new ways. Gray is a character who observes, comments and sometimes suggests a way through. The writing is light but offers insight into the true lives of those who have enough money and leisure to fulfil their needs, and are genuinely linked by family and friendship in a positive way. A cheerful book, reading about a countryside summer in a detailed but never tedious way is a real treat. I would be delighted to read more of Clavering's books as she provides a real boost to any reader who enjoys a gentle insight into family and village life in the sunlit 1950s.