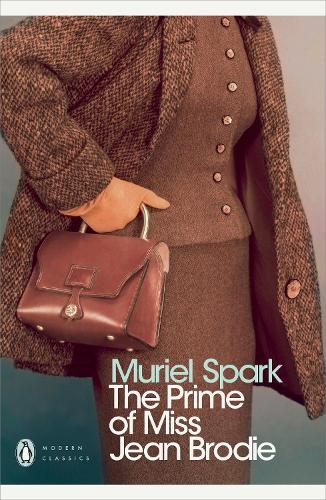 This famous book is known for many reasons; its portrait of Miss Jean Brodie herself, her schoolgirls who represented "her set", and the Edinburgh of the interwar period. The novel has been made into a stage play, and a film released in 1969 with the marvelous Maggie Smith in the lead role. Yet this is a book of surprises even on a reread, a short novel which looks at a remarkable woman in an unusual time. She is remarkable because she knows it, she wants the girls which she influences from twelve years old to be a sort of extension of herself in her "Prime". Although mainly written from the point of view of the girls, recording their adventures and their thoughts, this is Brodie's story. She controls their lessons, fills their conversations, and inspires their imagingings about the facts of life. 
It is a different, non linear sort of book in many ways, telling the tale of schooldays interspersed with comments about the later lives of the girls and Miss Brodie herself, observations largely from the point of view of Sandy.  It does run roughly with time spent by the girls at the school, but periodically refers to what happens after the girls' school careers end, including their deaths in some cases. Girls as individuals  are mentioned, their characteristics defined – "Famous for sex", "knows mathematics", such statements coming from Miss Brodie, arguably becoming self fulfilling prophecies once known. This background for the woman herself points up her unique nature. 
Miss Jean Brodie finds herself in opposition to the other teachers at the girls' school where she is employed. She wishes to attract, draw out and mould the girls under her influence, especially the six that soon form her set. She tells them stories of her life, her love lost in the First World War, that she is in her "prime". She instructs them to prop up text books so that if they are interrupted by the Headteacher while she is recounting her personal tales and observations they appear to be having an ordinary letter. Later when questioned the girls will tell the Head that she taught "History", which is an interesting way of describing Brodie's particular blend of statements of politics. The later stories of her liaisons with two of the male teachers form much material for the girl's speculations and ribald comments; Sandy in particular analyses her teacher and what is really happening. Miss Brodie treats her girls  to theatre trips, tea parties and more, her theories regarding everything from culture to love, politics and Edinburgh in all its variations. She takes the girls from their comfortable backgrounds to the other parts of the city and makes them question the differences between people.
Spark's style in this book is elusive, involved and brilliantly formed. Her picture of Edinburgh, for example, is wonderful 
"It was just then that Miss Brodie looked beautiful and fragile, just as dark heavy Edinburgh itself could suddenly be changed into a floating city when the light was a special pearly white and fell upon one of the gracefully fashioned streets"
Spark's writing in this book is a masterly piece of sustained characterisation of a unique woman and the way she lived her life. It is itself the best recommendation, a superb book of a woman with a particular view of herself and her significance.   
I particularly wanted to reread this book, not just for the film, but also because I remember seeing my daughter in a stage adaptation of this years ago, as one of the younger girls. It was an amateur production, and I can remember that she had some fierce plaits woven by somebody else I'm glad to say. I wonder if my husband has kept the programme?