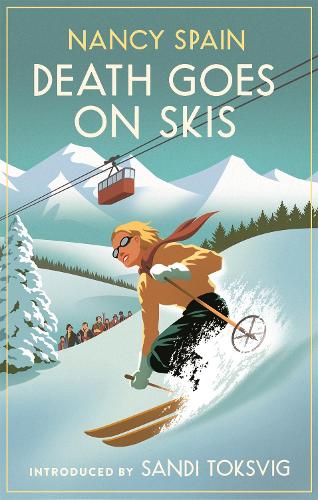 Death Goes On Skis by Nancy Spain
A republished gem in the Virago Modern Classics series, Death Goes on Skis, is a 1949 farce or murder mystery set in a ski resort in a mysterious European country. There is a quite a group of British based tourists who find themselves in the Water Station Hotel, owned by the misguided M Lapatronne with Trudi and Nelli as chambermaids. The British party include the family of Barny Flaherte, perfume manufacturer, which is extended to include two of his cousins, his mistress Fanny Mayes and her hapless husband, and the governess of his two children, Miss Rosie Leamington. Natasha, a retired Russian ballet dancer, her husband and step daughter are also in residence, with the remarkable Miriam Birdseye and her two associates. When a suspicious death occurs, more than one of the guests decide that it needs investigating, despite the official line.
As Sandi Toksvig points out in her informative Introduction, the humour in this novel works on various levels, with in jokes for those who are aware of the context in which it originally appeared, as well as the somewhat obvious humour of murder mystery set in a confined community. Some of the former humour could be now seen as dubious in the twenty first century, but is no more controversial than many authors' work produced at the time. Indeed, Spain's somewhat outrageous personality adds a knowing tone to a book which was very self aware even in its day. As a slice of social history it is revealing, as a postwar read it is lively and funny, and as a simple historical murder mystery with a comic theme it is just enjoyable. I found it an entertaining read and recommend it as such.
I was glad to find a list of characters in the front of this book, as when the story begins to unfold it is useful unless you have previous knowledge of Spain's novels, where some of the characters are featured in other investigations, as they refer to themselves throughout. Book One "The Journey", sets up the characters as they travel to the ski resort. Kathleen, a young woman, is described with her hair in a "black page-boy bob (which) flew behind her in elf locks. The effect was hysterical". Her sister, Toddy, is described as "a tough, gentlemanly young woman…with a polished Eton crop". Spain's flair for description flows throughout the novel, as Pamela is later described "she seemed detached, intelligent and amiable", whereas a room is described as "turbulent with the effects of someone who had dressed in a hurry for dancing without the help of a lady's maid". She uses the dialogue to further story and reveal much about the character of the speaker; "It is not money that I mind people stinking of" said Natasha, and moved gently away."
It is difficult to summarise what exactly this makes this book so memorable; the murder mystery among a small group of potential suspects, romance and attraction among the strangest people, two pairs of people: Roger and Morris who are devoted to Miriam, two appalling little girls who nobody finds likeable. The setting, of a ski resort which allows some characters to show off their skills, others to discover a talent, and the rest to shun skiing with determination. The currency limitation for the British abroad is an issue for some, while others rise above it, and yet others will bet on anything. Overall, this is a book for those interested in women's writing of the first half of the twentieth century, those who have an interest in murder mysteries written with little reverence for the rules, but most of all for those who enjoy an entertaining read. I will be reading more Nancy Spain books soon!