When not ploughing through novels, collecting books or generally sorting out Northernvicar, I like to read history books. Indeed, our dining room benefits from no less than five bookshelves full of them…Some periods of history are better represented than others, especially British 20th century, so those shelves are a bit double banked (whoops). As we have not long moved into this house, that means that either I organised it badly, or that I have lots of books in that section anyway. Either way, there's a lot to read.
One book that is really difficult to shelve is The Mistresses of  Cliveden.  I spotted this book when it came out in hardback, and rejected buying it as I was not sure that I would ever actually read it,and it was expensive. When I realised that it was out in paperback, I read the review by dovegreyreader, and was taken with the idea of the book as being written from the point of view of the women who had lived there. I have a vague memory of an aunt working in the hotel in the 1980s…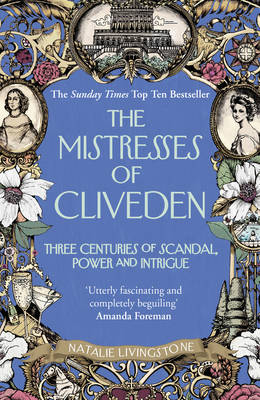 This is a book which ranges from the first building on the site in the 1660s to the troubles of the 1960s, but it is not necessary to have knowledge of the house or the gardens to really enjoy this book. It is, as it says in one synopsis, "the ways in which exceptional women defy the expectations of their time".
Thee book is divided into five sections, each named for the woman who was "in charge" over the years. They were all significant in society at the time, obviously as it was such a large establishment and near enough to London to allow political activities, including the first woman to take her seat in the Commons, and to be in constant touch with the royal family, as Harriet was a close friend of Queen Victoria. The first lady of the house, Anna Maria, shared the house with her notorious lover's, Buckingham, wife, Mary Villiers, which must have been difficult, even though they became friends. Her successor, Elizabeth, also obtained the house as a result of illicit romance, but became a star of the royal court and the friend of writers. Augusta, Princess of Wales, was the mother of many as well as a shrewd political operator. My favourite was Harriet, who was such a great friend of the Queen that she was one of the few allowed to visit in the aftermath of  Prince Albert's death. Nancy Astor comes over as an infuriating and often troubled woman, but who did much to raise the profile of women in politics. She was much criticised for some of her actions and alliances, but like all the women in this book, must have been impossible to ignore.
If the above makes this book sound as if it requires a detailed knowledge of British history over three centuries, well, I did not find it a problem at all. It is so readable because it follows the women in their lives, even if much of the time they were not  present at Cliveden, and highlights just how difficult life was even for the rich. Multiple pregnancies and the death of children and husbands were only some of the challenges faced; the political and social pressures on these women made their lives tough. This is women's history, but also social history and a demonstration of the sheer will power and tenacity of the individuals involved. It is not a quick read, but a fascinating one that kept me picking up the book and enjoying it.