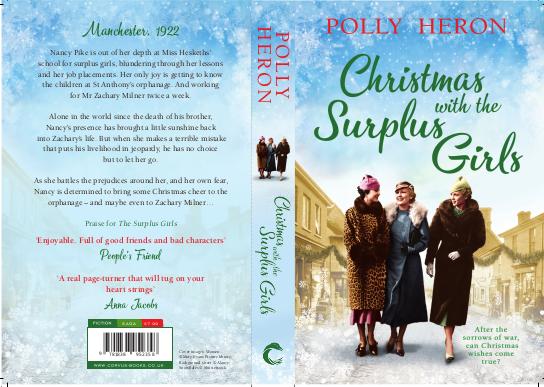 Christmas with the Surplus Girls by Polly Heron
In 1922 it was feared that many women and girls would never marry, with so many men being killed during the First World War. It became important that they were trained for jobs that would mean that they could survive without marriage, or remarriage if they had been widowed. In this third novel which looks at young women who could be called "Surplus Girls", a young woman is pressured into training for work beyond serving in a shop. Nancy Pike is concerned that office work is beyond her, but it seems that she must qualify in order to help her desperately poor family. She is therefore sent to Miss Hesketh's school for surplus girls, and becomes involved in not only the situations in that house, but also two work placements that both challenge her in new ways. Her progress and struggles occupy a large section of this book, as well as her meeting with Zachary Miller, who has his own problems in starting a business.
The largest linking factor with this novel and the previous two is the small business school run by two sisters in a relatively large house. Their secrets and motivations are well reestablished, especially in the light of two residents in the house: a problematic niece and an inspiring war widow with a complex secret. Thus it is perfectly possible to read and enjoy this book as a standalone novel with some characters who link it with previous stories. Also, despite the title, Christmas does not dominate the story, although for Nancy it forms particular challenges, so this book does not have to be a seasonal read. I was really pleased to have the opportunity to read and review this well written book.
As always in books from this author, the research is so impressive, especially into the social history of a time of great deprivation in cities. Thus Nancy's birthday celebration with her family takes place in the flat she shares with her parents and younger twin sisters above a tobacconist's shop. Her father is not a forceful man, and her mother is ill, in a time when medical help was an expensive thing for families on limited incomes. Nancy has been working in a pie shop since she left school, and enjoys the routines and meeting the customers, even if her wages are small. When her father announces that she is to leave the shop and train for office work she is dumbfounded, especially when it transpires that she is to leave home and become a student in the school run by Prudence and Patience Hesketh. Nancy is amazed to discover that she will be entering a house which seems to her to be the last word in gentellity, even though the "highly respectable, middle – class Miss Heskeths were as poor as church-mice". When it is proposed that she will become a paying guest/student she is amazed, and distraught, reluctant to leave her mother. She finds the lessons in basic office work, such as typing, a real struggle, and yet she is allocated to work in the office of a local orphanage. She and another young woman are to effectively compete for the single job on offer, with the decision to be made at Christmas. Furthermore she is also placed for work experience with a young man's business, Zackary, who has established a small concern equipping places with fire extinguishers. He is dealing with the trauma of fighting on the Front and losing his much loved brother. He is not convinced that he needs Nancy's help, and especially when she makes mistakes that threaten his fledgling business. Both young people discover an interest in the other, but events seem contrived to pull them further apart so their silent attraction seems to remain no more than secrets. With Christmas approaching, can Nancy make it a special time for the Orphanage as well as the other people around her?
This is a well written novel which kept me turning the pages well into the night, as I was so eager to discover what would happen to not only Nancy, but also those who had appeared in previous books. The setting of interwar Manchester is beautifully realised in terms of the buildings and the conditions in which the people live. This is a lovely book in so many ways with vivid characters throughout, even in minor roles, and I recommend this book to all those who appreciate female led dramas.