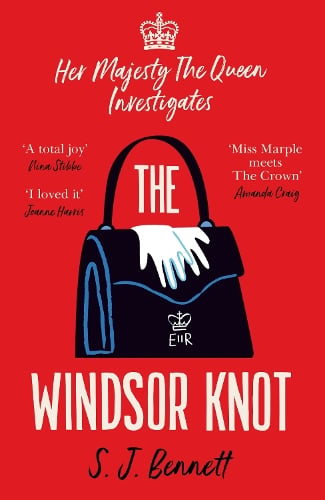 The Windsor Knot by S J Bennett
The first book in an excellent series is something to celebrate, and in the case of this book from 2020 it is certainly deserved. Set in April 2016, it reveals a great (ok, fictional) secret – Her Majesty The Queen Investigates Murder! Not that the royal personage walks the mean streets or is seen going about with a magnifying glass, but she uses her unique position and exclusive contacts to make sure that the truth comes to light. This light- hearted book has a core of real steel which I greatly enjoyed, as it challenges lots of assumptions in a way that is respectful as well as eye opening. Well researched as to the sort of activities an older queen still pursues, the worries about a challenging family and the sort of questions very few of us have to answer as to which set of jewels to wear or which private secretary to trust, this is a lively novel which sets out some thoughtful ideas. While there is a murder to cope with, there is also a lot about the living, and the complexity of lives. The Queen herself emerges as a thoughtful person, who is highly skilled in reading people, while her chosen helper, Rozie, is a resourceful person with a great deal of courage. This is a book to sink into and really enjoy, and I really recommend it.
The book begins with a mystery. The staff that surround the Queen want to protect her from some of the harsh realities of life, so she is informed merely in passing that a young man, a guest, has died. He was a musician at an unremarkable "dine and sleep" at Windsor castle, when she entertained guests for a variety of reasons, including the requests of Prince Charles "who wanted to use it to curry favour with some rich Russians for one of his pet projects that needed a cash injection". The Queen had added a few guests of her own choosing, including Sir David Attenborough, who had at least the merit of being around her own age. It is only when she enquires directly that she discovers that the young man, who she had briefly danced with, was in fact discovered in a compromising position. She decides that the informal unfortunate misadventure verdict does not add up for a variety of reasons, and decides to do some investigating of her own. In order to summon up the right people to consult she involves Rozie, a newly appointed member of her household with an interesting past, including being a highly successful army officer. Rozie soon discovers that when the Queen wishes to get to the bottom of a matter, however potentially embarrassing or complex, she does so. After all, who would refuse a request from Her Majesty when she wants information. Not that always makes her job easier – or even safer – when she is operating in secret from an inquisitive household and wider world. In satisfying more than idle curiosity, the Queen has to work subtly, but she has been working this way for decades so she is highly skilled.
This is a very enjoyable book which is well written and engaging throughout. It reveals much about a life that everyone knows something of in a consistent and fascinating way, and it marks the start of an excellent series.