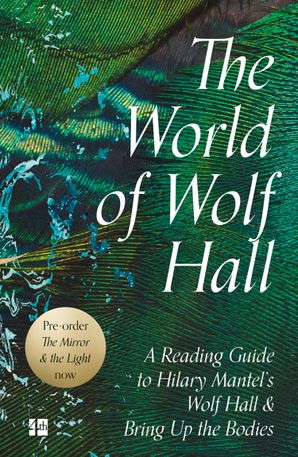 The World of Wolf Hall by Sam Binnie (4th Estate)
Just a brief note about this "Reading Guide to Hilary Mantel's Wolf Hall & Bring Up the Bodies" which is free in many bookshops at the moment. It is of course a trailer in book form for "The Mirror & the Light" , the concluding in a trilogy of books featuring Thomas Cromwell and his life and service in the court of Henry VIII. This much awaited book is due out on the 5th March, follows Wolf Hall (2010) and Bring Up the Bodies (2013). I was surprised how long ago those two books were actually published and started winning awards, most notably the Booker prizes.
I have read and re read these books and listened to them on audio cds, but I would be the first to agree that they are big books, and reading them is certainly a large undertaking. In a way, the second one is an easier read, if only because Mantel had sorted out the "He" ambiguity which meant that it could be hard work to sort out who was being described. Wolf Hall was the achievement, though; having read many historical novels and reviewed quite a few on this blog I would certainly say that Mantel's novel broke the mode in its sensitive handling on a controversial but not well known historical character. They are intense books, with their focus on one man's life, but which left huge holes in the background to this most enigmatic of men.
Which is a long way of saying that this booklet is a timely reminder of the facts, themes and style of the books before tackling the third novel. It saves rereading them, and enables the reader to follow the characters, dates and most significant events of the time before the beginning of the third novel. It also contains questions for reading groups who tackle the books, which includes the question about which household you would prefer to live in. If you have read the books, or are intending to get all three after the 5th March and set off on a reading marathon like no other, it would be well worth picking up this small but interesting book.