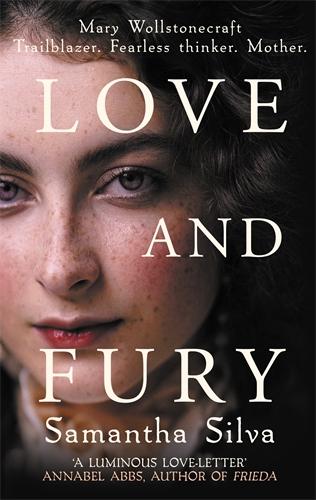 Love and Fury by Samantha Silva
Mary Wollstonecraft was a writer, thinker and in her own way, a revolutionary. In this novel she is at first presented as a mother, giving birth and failing in health afterwards in the eyes of her midwife, Mrs.Blenkinsop. The baby is nicknamed "little bird", and will grow up to write a novel which overturned expectations as Mary Shelley. This is not her story, but the story of a woman who had grown up demanding more than conventional marriage. Her back story is told between the observations of Mrs B, a recent widow who becomes totally committed to helping this unusual woman and her tiny child. Moving in its treatment of a difficult birth and woman who realises she is in danger, this is a powerful picture of a woman who had grown up rebelling against her lot and that of all women.
This book is set principally in August and September 1797, and works on several levels as an account of a difficult birth and a biography of an unusual woman who rebelled against society's expectations for girls. It does not require any extensive knowledge of eighteenth century life or Mary's story, and it tells an impressive tale of a woman who was determined to make a difference. There are surprises and twists, and great love. It is not a biography in a straightforward way, but succeeds in telling the stories of women who faced enormous difficulties in so many ways. It is a strong tale of love in several forms and a deeply affecting book, brilliantly written. I was very pleased to have the opportunity to read and review this amazing novel.
From the beginning of the book there are descriptions of an unusual household, at least to the eyes of the experienced midwife who turns up at her door. She encounters the three year old Fanny, Mary's daughter, and on the basis of her experience states that the imminent arrival will be a girl. " "Another girl," said the mistress almost under her breath, "in this world.". The meaning behind her words becomes clearer after the birth. As they wait, Mrs B suggests that Mary talk to her child to be, and the first switch of perspective occurs. Mary takes over the narration, and recalls how the baby is born, but seems very weak. Mrs B is concerned for both mother and baby, the latter seeming unable to suckle, the mother because the placenta has not emerged. Mr Godwin, the husband seems undecided about calling in a doctor. When efforts are made to deliver the placenta, Mary thinks back to her childhood, her difficult life, her feckless father and the siblings that caused problems. From early on she tries to save people, her mother, her brother who seems destined for an institutional life, and it is a trait which will stay with her. For reasons that emerge from Mrs B's chapters, Mary keeps remembering, telling her stories of determination that all girls and women should have options beyond marriage, enabled by a more comprehensive education. Her loves, her adventures, her disappointments are recalled with painful clarity as she tells her daughter everything, trying to keep her going,to gain in strength.
This is an important and significant book of a fictional appraisal of Mary's life, what drove her decisions and actions. It is written with an economy of style and appreciation of a significant woman's history. I found it to be a beautifully written novel produced on the basis of careful research which is never pushed at the expense of the narrative. It provides a brutally honest account of childbirth and the fate of so many women at the time. I recommend this book to anyone with an interest in women's history and Mary Wollstonecraft in particular, as well as those who enjoy an excellent fictionalised biography.